HOW TO BID
Bids, offers or purchases can be placed on any item on any page where you see the Place Bid, Make Offer or Buy Now button.
Incremental Bidding
Incremental bids place the next incremental bid for the item/lot.
Bidding increment values will vary depending on the item. The increment is displayed below the current bid price.
Once you have placed your incremental bid, the box at the bottom of the item/lot listing will turn green to show that you are winning. If a red box is returned your bid is either not high enough to reach the reserve, or another user has placed an auto bid on the item/lot.
Here is what incremental bidding will look like: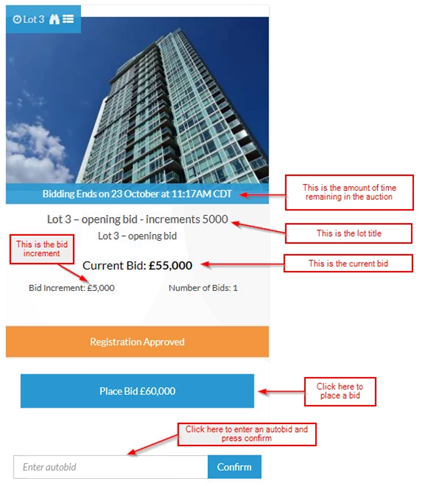 Auto bid / Max Bid / Commission Bid
Auto bidding allows you to place the maximum price you are willing to pay for the item.
Extended bidding is on and set to 30 seconds
If a Bid is placed within the last 2 minutes of the designated closing time, the closing time automatically extends 30 seconds from the time the bid is logged into the system. The "new" closing time is indicated under "Extended Closing" on the bid form. Subsequent bids on the item will continue to extend the listing's closing time until there is a 30 second period without any bids. This applies to any Bid that is accepted by the system.
Advantages:
Allows a Bidder, whose Limit Bid is beaten in the last seconds, time to re-bid. This prevents a bidder from being "shut out" (also known as sniping) as they would be if the listing had a "fixed closing".
Allows a Bidder, whose last minute Bid does not overtake the current Bidholder's Limit Bid (if applicable), time to bid again if still interested in the item.
Extended Bidding more accurately simulates a "live" event where the bidding ends only when the participating parties discontinue bidding within a certain time period.